The way you prepare for neet can have a huge impact on its ability to score.
The National Eligibility Cum Entrance Test (NEET), formerly the All India Pre Medical Test (AIPMT) is an entrance exam for students all over India who wish to study medical/paramedical courses such as MBBS, BDS, Ayurveda, Homeopathy, Physiotherapy, Occupational therapy, Veterinary etc. Here, we'll be only focused on MBBS/BDS courses.
The Actionable Guide for NEET Medical Entrance Test
NEET is currently conducted by National Testing Agency (NTA) which provides the results to the Directorate General of Health Services at the Ministry of Health and Family Welfare. Prior to 2019, the test was administered by the Central Board of Secondary Education (CBSE) in partnership with Prometric Testing Pvt Ltd headquartered in the USA.
Mode of NEET Examination
It is an offline exam, using a pen and paper only. The candidates will have to circle their answers on the OMR sheet provided to them using a black ball point pen only. The stationary will be provided to them in the exam hall.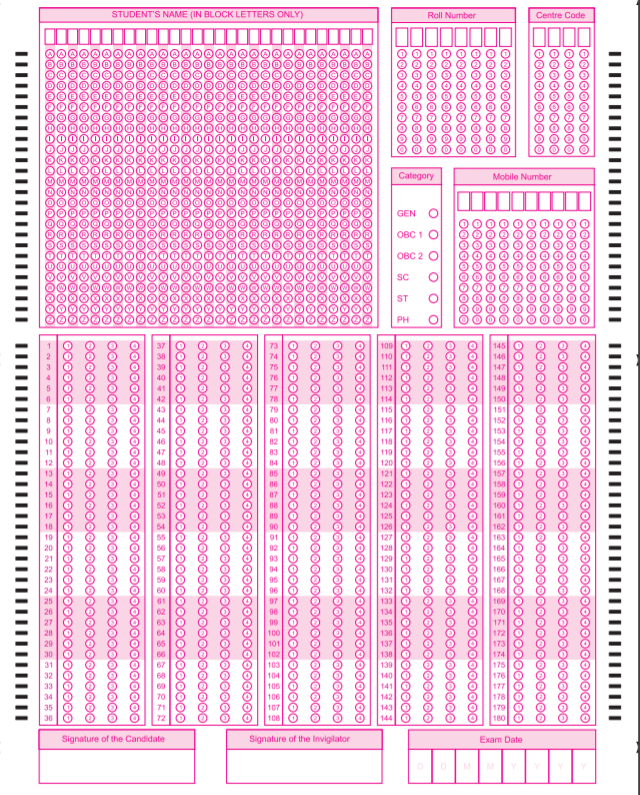 NEET Exam Time Duration
It is a three hour long paper. All the three subjects i.e Biology, Chemistry and Physics question paper will be provided to the candidates at the beginning of the exam and the candidates can attempt the paper however they want. It is suggested the candidates start with Biology as it hold the most marks (360 marks).
Official Website
www.ntaneet.nic.in is the website where the candidates can obtain their admit cards and their results.
Types of Collages & Number of Seats through NEET
Type of Colleges
MBBS
BDS
Total Colleges
Total Seats
Total Colleges
Total Seats
Government Colleges
216
30,455
47
2,930
Private Colleges including Deemed Universities
247
36,165
260
24,130
Central Universities
2
151
2
88
Total Seats through NEET
465
66,771
309
27,148
Syllabus for NEET
Physics
Class 11
Physical World and Measurement
Kinematics
Laws of Motion
Work, Energy and Power
Motion of System of Particles and Rigid Body
Gravitation
Properties of Bulk Matter
Thermodynamics
Behaviour of Perfect Gas and Kinetic Theory
Oscillations and Waves
Class 12
Electrostatics
Current Electricity
Magnetic Effects of Current and Magnetism
Electromagnetic Induction and Alternating Currents
Electromagnetic Waves
Optics
Dual Nature of Matter and Radiation
Atoms and Nuclei
Electronic Devices
Chemistry
Class 11
Some Basic Concepts of Chemistry
Structure of Atom
Classification of Elements and Periodicity in Properties
Chemical Bonding and Molecular Structure
States of Matter: Gases and Liquids
Thermodynamics
Equilibrium
Redox Reactions
Some p-Block Elements
Organic Chemistry - Some Basic Principles and Techniques
Hydrocarbons
Environmental Chemistry
Hydrogen
s-Block Element (Alkali and Alkaline Earth Metals)
Class 12
Solid State
Solutions
Electrochemistry
Chemical Kinetics
Surface Chemistry
General Principles and Processes of Isolation of Elements
p-Block Elements
d and f-Block Elements
Coordination Compounds
Haloalkanes and Haloarenes
Alcohols, Phenols and Ethers
Aldehydes, Ketones and Carboxylic Acids
Organic Compounds Containing Nitrogen
Biomolecules
Polymers
Chemistry in Everyday Life
Biology
Class 11
Diversity in the Living World
Structural Organisation in Animals and Plants
Cell Structure and Function
Plant Physiology
Human Physiology
Class 12
Reproduction
Genetics and Evolution
Biology and Human Welfare
Biotechnology and Its Applications
Ecology and Environment
Exam Pattern for Neet
NEET consists of 180 objective type questions with four options (out of which 1 is the correct answer) from the subjects Physics, Chemistry and Biology (botany and zoology) to be answered on the OMR sheet by the black ball point pen provided.
The question paper will be available in English, Hindi, Marathi, Gujarati, Bengali, Oriya, Assamese, Telugu, Tamil, Urdu and Kannada languages.
Marking scheme is four marks for each correct answer, 1 negative mark for each incorrect answer and no mark for unattended answer.
| | |
| --- | --- |
| Each correct response | +4 |
| Each incorrect response | -1 |
| Unmarked question | No marks |
Types of question asked
The level of NEET is from moderate to difficult.
Majority of questions from physics are asked from:
Motion in two or three dimensions (3)
Laws of motion (2-3)
Rotational motion (3)
Heat and thermodynamics (5)
Waves (2-3)
Current electricity (2-4)
Ray optics (2-4)
Wave optics (3-5)
Majority of questions from chemistry are asked from:
Chemical bonding (3-6)
States of matter (2-4)
Electrochemistry (1-3)
S-p-d-f block elements- (5-8)
Organic chemistry (3-5)
Halogen (2-6)
Aldehydes/ketones (4-8)
Majority of questions from biology are asked from:
Diversity of life (9-11)
Genetics (11-15)
Physiology in animals (10-11)
Reproduction and growth in plants (8-10)
Reproduction and growth in animals (8-10)
Ecology (8-10)
Biology and human welfare (7-10)
Previous Year Question Paper for NEET Exam
candidates who are appearing for NEET to solve previous years question papers as to get an idea of the paper pattern and the types of questions asked. Solving the question papers should only be started after the candidate is done with his/her portion in order to know where they stand and the topics they're having difficulties. Simply go through previous year's papers to screen out important high yielding topics!
Last Years NEET cut off marks
| | | | | |
| --- | --- | --- | --- | --- |
| Category | 2019 | 2018 | 2017 | 2016 |
| General Category | 701-134 | 691-119 | 697-131 | 685-145 |
| Scheduled Caste | 133-107 | 118-96 | 130-118 | 595-118 |
| Schedule Tribes | 133-107 | 118-96 | 130-107 | 599-118 |
| OBC | 133-107 | 118-96 | 130-107 | 678-118 |
NEET Application Filling Process
Before filling the application form the candidate must have the following documents ready-
10th class marksheet
12th class marksheet
Scanned copy of candidates passport size photo
Scanned copy of candidates signature
Valid ID proof
For applicants from Assam, Meghalaya and Jammu and Kashmir. Ration card no. or bank account number is accepted. For foreign candidates passport number is a valid ID proof.
Step 1:
Visit the original website www.ntaneet.nic.in and click on new registration link.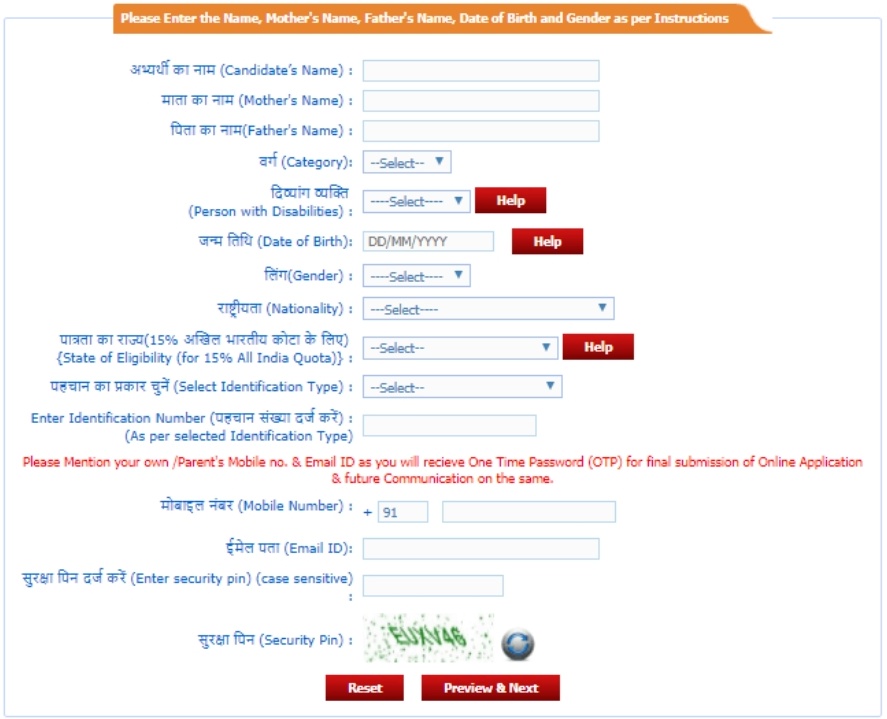 Read the instructions carefully and click on 'Apply online'
Step 2:
Post filling your details correctly, you will be issued login credentials.
Next step is uploading a photo and signature.
Note:
The photographe should be of 10-100kb in .JPG format and it should have the candidate's name and date when there photo was taken
The signature should be of 3-20kb and it should be in .JPG format and the signature must be in blue or black pen on a white paper.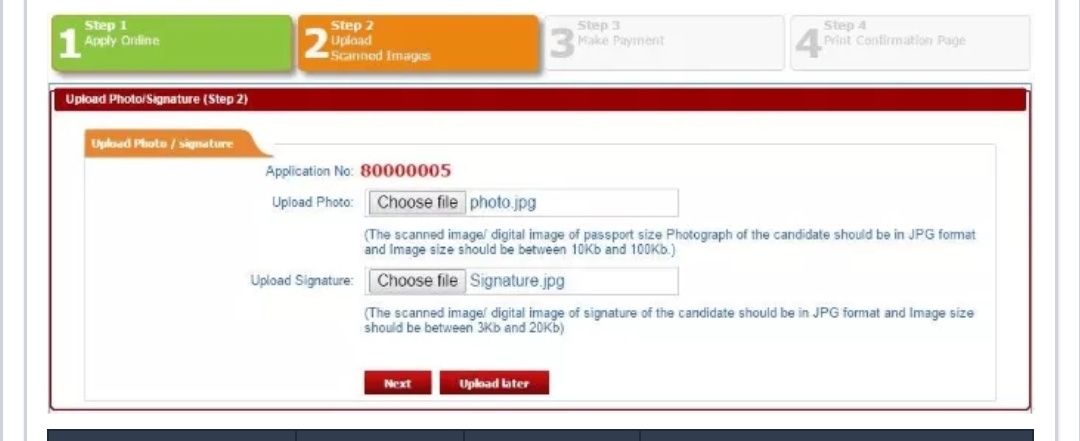 Step 3:
After filling the details the candidate has to pay the application fee through debit card/credit card/ UPI app/ netbanking/ E-wallet.
The application fee for NEET 2019 was Rs 1400 for general category and Rs 750 for SC/ST/OBC etc candidates
The following infograph indicates the different ways of mode of payment: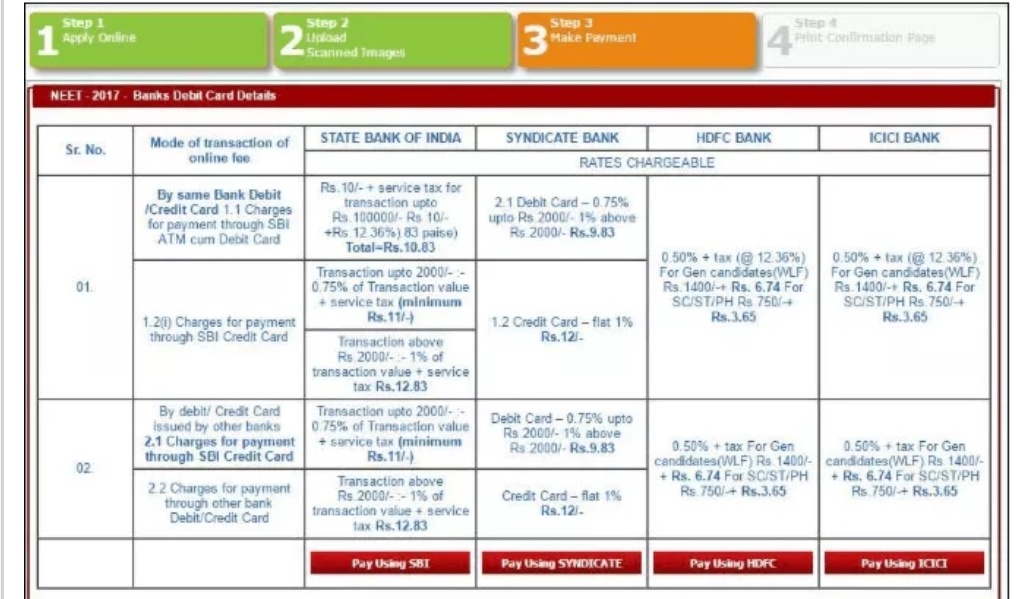 Eligibility
Under 85% quota:
85% of the seats are reserved under the state counseling. The eligibility criteria under 85% quota are:
Candidates must have a domicile of their state.
Candidates must have a proof of his or her residency.
Candidates must have finished their schooling or appearing for 10th and 12th from the state itself.
The following can apply under state quota :
Indian nationals
Non-resident Indians (NRI's)
Overseas citizen of India (OCIs)
Persons of Indian origin (PIOs)
Foreign nationals (confirm with concerned institute or state)
Candidate must be a citizen of India
Candidate must be at least 17 years old as of 31st December of the previous year
Maximum age limit is 25 years or more for unreserved category and 30 years or more for reserved a d PWD category
There's no limit on permitted number of attempts
Reservation under 15% quota:
| | |
| --- | --- |
| Category | Reservation percentage |
| Scheduled Caste | 15% |
| Schedule Tribes | 7.5% |
| OBC (as per a central act, seats are reserved for OBC candidates in Central institutions) | 27% |
| Physically Handicapped* | 3% |
To get an admission via ALQ the candidates need to take part in the NEET counseling by MCC
Note: candidates from J&K are not eligible under this quota will have to submit a self declaration form.
NEET Eligibility criteria:
Candidates should have cleared their (10+2) with 50% marks in all subjects combined (Physics, chemistry and biology)
●50% aggregate for general quota ● 40% for SC/ST/OBC and ● 45% for PH general ● 40% for SC/ST/OBC handicapped
NEET Admit Card
Visit the official website of www.ntaneet.nic.in
Click on 'Admit card for NEET'
Enter registration number, date of birth, security pin and submit

A new page will open which displays your NEET admit card
Save the admit card and print it.
NEET Result
Visit the official website of www.ntaneet.nic.in
Click on NEET result
A new tab will open enter the required credentials :roll no, date of birth and security pin

NEET result will be displayed on the screen
Download and take a print of the same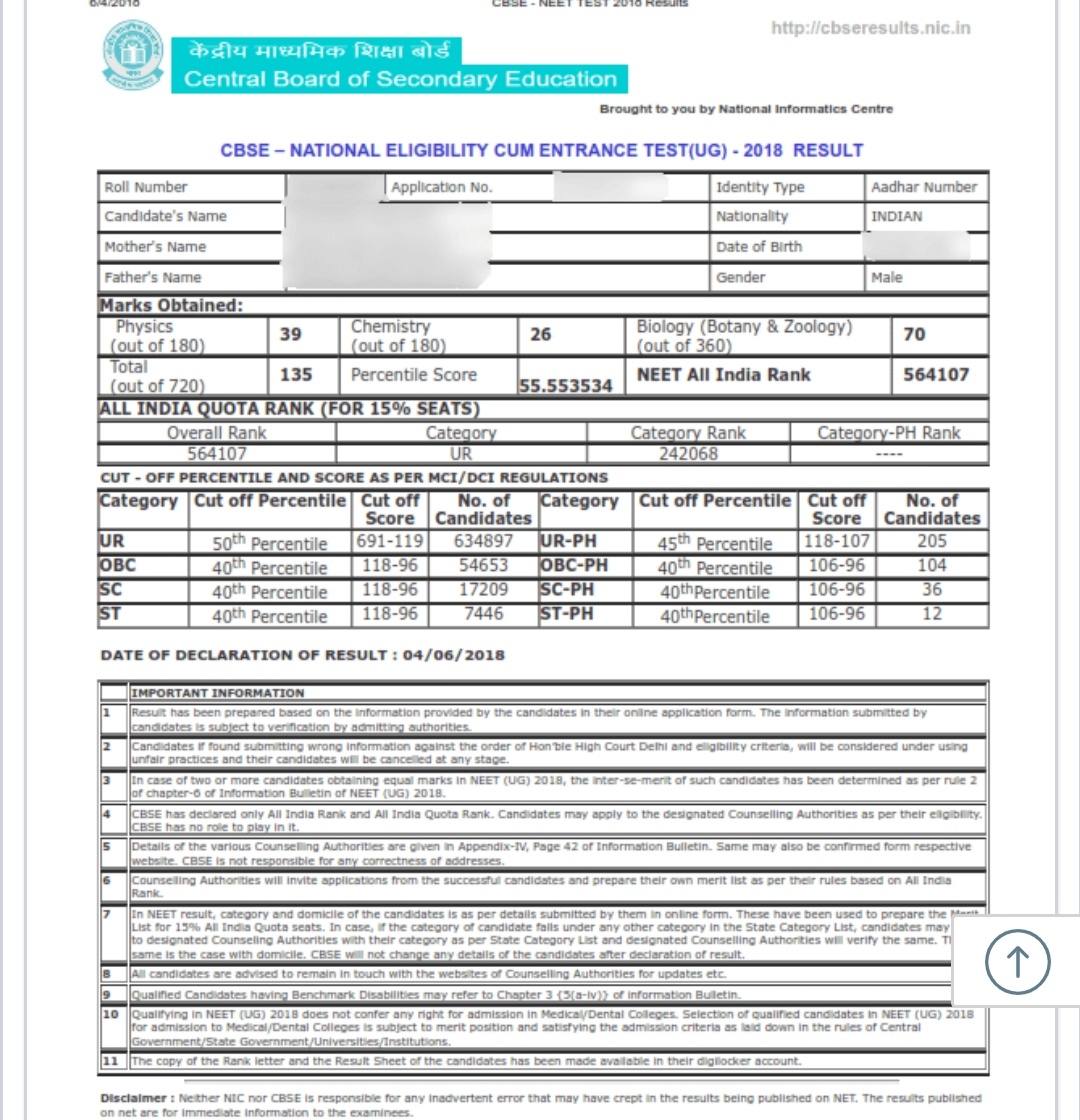 NEET Preparation Tips
A candidate gets 2 years for preparation for NEET.Ncert books are considered to be the Bible for this entrance test and 80% of the biology paper is pick up lines from the Ncert text book.
Alot of organic chemistry reactions also come from the Ncert text books only For Physics doing the formulas are very important as 65-70% of the paper will be based on the formulae.
Solving past year's papers is very important as it gives the candidate an idea about the way questions are going to be asked and if the candidate is able to solve them
Books For Refference
Biology
Physics
Chemistry
Frequently Asked Questions (FAQs)
| | |
| --- | --- |
| Question | Reply |
| How many students get registered for NEET? | About 15 lakhs students get registered for NEET. |
| What are the timings for NEET? | The timings are usually 2pm to 5pm |
| I have posted a photograph without my name and signature. Will it be rejected? | The authority has issued a notice that an image without a name, sign and white background will not be rejected. |
| Can I change my address in the application form? | Candidates can change the details from the correction window facility |
| When will the exam be conducted? | NEET exam is usually held in the first week of May. |
| Will admission to AIIMS and JIPMER, Puducherry be made through NEET (UG)? | No |
| Is there any change in the pattern of NEET (UG)? | No.The NEET (UG) – shall consist of one paper containing 180 objective type questions (four options with single correct answer) from Physics, Chemistry and Biology (Botany & Zoology). This will be a single exam in pen-and-paper mode. |
| Is it compulsory to take Maths if I want to appear in NEET (UG)? | Mathematics is not required for NEET (UG) |