ABOUT VITEEE
Vellore institute of technology to enroll students in their undergraduate programs among various engineering branches, conducts VITEEE (VELLORE INSTITUTE OF TECHNOLOGY ENGINEERING ENTRANCE EXAM) every year. The application form was made available from oct 28, 2018. Candidate can fill the application form both online and offline. The exam was conducted in online mode from 10 April to 21 April. VIT has four campus all over India – Chennai, Bhopal, Amravati and last Vellore for which it is famous. A large number of career options are available at VIT. Here are the list of branches that you are offered :
List of B.Tech. Programmes offered at VIT
Aerospace Engineering
Bioengineering
Biotechnology
Chemical Engineering
Civil Engineering
Computer Science and Engineering
Computer Science and Engineering with spl.in AI and Machine Learning
Computer Science and Engineering with spl.in Artificial Intelligence
Computer Science and Engineering with spl.in Bioinformatics
Computer Science and Engineering with spl.in Cyber Security and Digital Forensics
Computer Science and Engineering with spl.in Data Analytics
Computer Science and Engineering with spl.in Gaming Technology
Computer Science and Engineering with spl.in Information Security
Computer Science and Engineering with spl.in IoT
Computer Science and Engineering with spl.in Data Science
Computer Science and Engineering & Business Systems
Computer Science and Engineering with spl.in Networking and Security
Electrical and Electronics Engineering
Electronics and Communication Engineering
Electronics and Communication Engineering with spl.in Embedded Systems
Electronics and Communication Engineering with spl.in VLSI
Electronics and Communication with spl.in Biomedical Engineering
Electronics and Computer Engineering
Electronics and Instrumentation Engineering
Fashion Technology
Information Technology
Mechanical Engineering
Mechanical with spl.in Automotive Engineering
Production and Industrial Engineering
Eligibility
VIT has set certain parameters in eligibility regarding age, attempts and some other fields. Hence candidates are suggested to read the eligibility very carefully. Eligibility differs for various courses. If you do not fill the criteria you may be debarred from filling the application form or at later stage, your result might get cancelled. Let's see the eligibility.
✓ Candidate must have been born on or after July, 1997.
✓ The candidates should be Resident/Non-Resident Indian National. PIO and OCI holders will also be eligible for VITEEE 2019 examination.
✓ Candidate should have passed the 12th exam with aggregate 60% and above in Physics, chemistry and Mathematics/Biology. The following exam for the same can be considered :
10+2 of Higher Secondary Examination conducted by the State Board; Central Board of Secondary Education (CBSE, New Delhi), The Council for Indian School Certificate Examination (ISCE, New Delhi).
Intermediate or Two year Pre-University Examination conducted by a recognized Board/University.
High School Certificate Examination of the Cambridge University or International Baccalaureate Diploma of the International Baccalaureate Office, Geneva.
General Certificate Education (GCE) examination (London/Cambridge/Sri Lanka) at the Advanced (A) level.
VITEEE IMPORTANT DATES
| Date | Event |
| --- | --- |
| 10 May, 2019 - 15 May, 2019 | Counselling - Phase 2 | Mode: Offline |
| 09 May, 2019 | Counselling - Phase 1 | Mode: Offline |
| 29 Apr, 2019 | Result | Mode: Online |
| 10 Apr, 2019 - 21 Apr, 2019 | Exam | Mode: Online |
| 28 Mar, 2019 | Admit Card | Mode: Online |
| 27 Mar, 2019 | Slot Booking - Start Date | Mode: Online |
| 28 Oct, 2018 - 22 Mar, 2019 | Application | Mode: Online and Offline |
| 28 Oct, 2018 - 21 Mar, 2019 | Application | Mode: Online and Offline |
Syllabus for VITEEE
Physics
Laws of motion & work, energy and power
Properties of matter
Electrostatics
Current Electricity
Magnetic effects of electric current
Electromagnetic induction and alternating currents
Optics
Dual nature of radiation and atomic physics
Nuclear physics
Semiconductor devices and their applications
Mathematics
Matrices and their applications
Analytical geometry of two dimensions
Analytical geometry of three dimensions
Discrete mathematics
Probability distributions
Trigonometry and complex numbers
Vector algebra
Differential calculus
Integral calculus and its applications
Differential Equations
Chemistry
Atomic structure
P- d- and f-block elements
Coordination chemistry and solid state chemistry
Thermodynamics, chemical equilibrium and chemical kinetics
Electrochemistry
Isomerism in organic compounds
Alcohols and ethers
Carbonyl compounds
Carboxylic acids and their derivatives
Organic nitrogen compounds and biomolecules
EXAM PATTERN
It is well said to win a game first you need to understand the rules of game. The same rule works in the field of VITEEE. You need to understand its pattern, syllabus, difficulty level, time required to solve a question and some other stuffs. We are here to provide the exam pattern for betterment of students.
Mode – Computer Based Test
Duration – 2 hours 30 minutes
Medium of Language – English
Sections

Physics – 40 Questions
Chemistry – 40 Questions
Mathematics/Biology – 40 Questions
English – 5 Questions

Total Number of Questions – 15 Questions
Types of Questions – Multiple Choice Questions
Marking Scheme – 1 mark will be awarded for each correct answer. There is no negative marking.
APPLICATION PROCESS
The assigned authority has released the application process and candidate can fill it online as well as offline. Before appearing for this exam, you are advised to go through the pattern, syllabus, eligibility criteria, fees structure and important documents required.
Registration : here the candidate is required to get registered with mobile no and email id. The mobile no and email id should be in working as all further communication is done through these.
Form filling : here the candidate is expected to enter academic, personal and communication details. Along with these, you are supposed to select 3 exam centres in order of preference.
Documents upload : here upload the photograph and signature
Application Fee
Online Application Form - Rs. 1150
Offline Application Form - Rs. 1200
Application Fees
| Category | Quota | Mode | Gender | Amount |
| --- | --- | --- | --- | --- |
| General, ST, OBC, SC | PWD | Online | Male, Female | ₹ 1150 |
| General, ST, OBC, SC | PWD | Offline | Male, Female | ₹ 1200 |
| General, ST, OBC, SC | | Online | Male, Female | ₹ 1150 |
| General, ST, OBC, SC | | Offline | Male, Female | ₹ 1200 |
EXAM CENTRES
State
City
Andaman and Nicobar Islands
Port Blair
Andhra Pradesh

Amaravati

Ananthapur

Eluru

Guntur

Kurnool

Nellore

Rajahmundry

Srikakulam

Tirupati

Tanuku

Vijayawada

Visakhapatnams

Arunachal Pradesh
Itanagar
Assam

Dibrugarh

s

Guwahati

Silchar

Bihar

Bhagalpur

Gaya

Muzaffarpur

Patna

Chandigarh
Chandigarh
Chhattisgarh

Bhilai

Bilaspur

Raipur

Delhi
New Delhi
Goa
Goa
Gujarat

Ahmedabad

Rajkot

Surat

Vadodara

Haryana

Faridabad

Gurgaon

Hisar

Kurukshetra

Himachal Pradesh

Dharamsala

Shimla

Jammu and Kashmir

Jammu

Srinagar

Jharkhand

Bokaro

Dhanbad

Jamshedpur

Ranchi

Karnataka

Bengaluru

Hubli

Mangalore

Kerala

Kochi

Kozhikode

Thiruvananthapuram

Thrissur

Madhya Pradesh

Bhopal

Gwalior

Indore

Jabalpur

Ujjain

Maharashtra

Amravati

Aurangabad

Latur

Mumbai

Nagpur

Nashik

Pune

Thane

Manipur
Imphal
Meghalaya
Shillong
Mizoram
Aizawl
Nagaland
Dimapur
Odisha

Berhampur

Bhubaneswar

Rourkela

Puducherry
Puducherry
Punjab

Amritsar

Bathinda

Jalandhar

Ludhiana

Rajasthan

Ajmer

Bikaner

Jaipur

Jodhpur

Kota

Udaipur

Sikkim
Gangtok
Tamil Nadu

Chennai

Coimbatore

Erode

Kumbakonam

Madurai

Salem

Tiruchirapalli

Tirunelveli

Vellore

Telangana

Hyderabad

Karimnagar

Khammam

Mahabubnagar

Nalgonda

Warangal

Tripura
Agartala
Uttar Pradesh

Agra

Aligarh

Allahabad

Bareilly

Gorakhpur

Jhansi

Kanpur

Lucknow

Mathura

Meerut

Moradabad

Noida

Raebareli

Saharanpur

Varanasi

Uttarakhand

Dehradun

Pantnagar

Roorkee

West Bengal

Asansol

Durgapur

Kolkata

Siliguri
VITEEE PREVIOUS YEAR PAPERS
To grab good rank in any competitive exam, past years paper always play crucial rule. Practising these questions papers enriches confidence in mind and encourages you to make proper strategy and time management or you get a clear and fair scene where you actually stand. After practising these you would come to know about the weak part or zone where you ought to give time son you can achieve better. Time management skill will definitely get developed. VITEEE is all about speed and accuracy and solving these papers on interval will deliver you the same.
SLOT BOOKING
VIT slot booking has started from march 27. Candidate are required to book slots. Also these are on first come first serve basis so if a candidate preference exists he/she should not wait for next day. During slot booking the candidate will have to select date, time and exam centre. After this, the admit card get issued carrying details like exam centre, date, time etc. The slot booking was open through Online Test Booking System (OTBS) and once the slot booked cannot be changed further. Hence, candidate are suggested to book slot with all arrangements in their hand i.e. are they comfortable with city and timing.
VITEEE ADMIT CARD
The moment you booked the slot, admit card will be made available to download. Admit card is an important document you need to carry along with ID proof at the exam centre and failure in producing any of these may disqualify you from sitting in the exam. Login with ID and password and get the admit card. Also make photocopy of it for future purpose.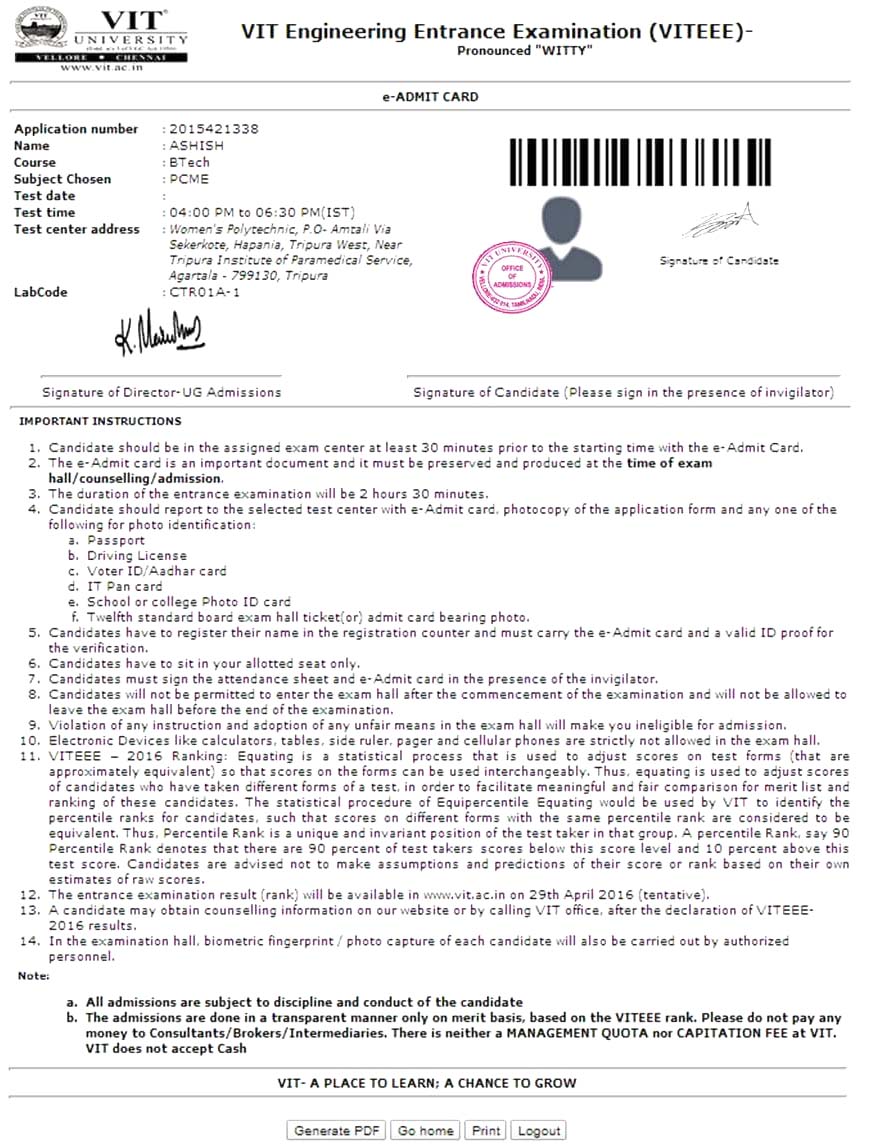 RESULT & CUT OFF
The concerned authorities has announced the result of VITEEE on April 29. Result card carry you marks obtained and rank after normalisation process as the exam is carried on multiple day. After seeing the no of applicants, marks obtained, difficulty of paper VIT will declare the cut off. Candidate should score high to get admission in it.
COUNSELLING
After qualifying the exam with high colour, to take participate in counselling you are supposed to fill the counselling form. VIT has started the counselling of VITEEE 2019 in offline mode from May 9 for Phase-1. The phase-2 counselling is being conducted by VIT in offline mode from May 10 to 15, 2019. A demand draft for Rs 50,000 drawn in favour of 'VIT University', payable at Vellore is also required at the time of counselling.
| State | City |
| --- | --- |
| Tamil Nadu | Vellore |
| Madhya Pradesh | Bhopal |
| Andhra Pradesh | Amaravathi |
Documents Required at Counselling
VITEEE 2019 admit card
VITEEE 2019 counselling call letter
VITEEE 2019 result
10th standard certificate (as a proof of age)
10+2 (or equivalent) qualifying examination mark sheet
Category certificate (if applicable)
Demand draft for Rs 50,000 drawn in favour of 'VIT University', payable at Vellore.
Copy of Aadhaar card
Student profile
Undertaking form
Migration certificate
Transfer certificate
PREPARATION TIPS
Try to attempt all the questions as there is no negative marking but in the case of tie candidate with less number of negative answer will be given higher priority.
Must attempt the all mock papers. It will not only give you idea about the exam but also checks your performance. If you do not do further preparation, more or less your score will revolve around the mock test paper.
Eliminate the calculation & silly mistakes or wrong things you are doing in mock test. It can add 15+ marks in your result.
Must practise the past year papers. It will reap confidence. Also you would come to know about the weak zone or area. With proper time in hand you can fix it. You get to know about the time management which play a crucial role during exam. You would better handle pressure, time constraint, difficulty level than others in better way. Many times questions get repeated.
Start with chemistry. Its questions are mainly theoretical, long calculations are not required. Try to solve this part in 30 mins, then time for mathematics zone part will get increased, you will no longer feel under burden.
Must go through NCERT books for chemistry and physics.